About Our President

"I was awakened to social justice work shortly after I received my graduate degree in Library Services from the University of Maryland. I went to work in the outreach department of a public library system where we had mini-libraries and a bookmobile serving children in low income communities. Our premise was that before children could develop a love for books, they first had to have their basic needs met—food, clothing, shelter—so we attended to those needs. This is where I learned that I had a deep concern and passion for social justice work. A few years later, I went on to become Executive Director of an agency that helped address isms adversely affecting women in the workplace. That was almost thirty years ago; I have advocated for social, economic, environmental justice ever since."
Dothula Baron has a B.A. degree in English from North Carolina Central University in Durham, NC, an M.S. in Library and Information and Information Services from the University of Maryland College Park, and an M.A. in Conflict Resolution from Columbia College in South Carolina.
She has worked in communities for over thirty years to empower individuals and families socially, economically and environmentally. Her primary focus has been on working with families to improve the quality of their lives and develop tools for overcoming life's constant challenges. Dothula's experience includes Executive Director and Founder of the Rural Empowerment Association for Community Help (REACH), Warsaw, NC; Executive Director of The Dispute Settlement Center, Kenansville, NC; and Executive Director of Women in the Work Force, High Point, NC. She served as Program Director for MBA, a nonprofit that addresses health disparities among Native Americans and other people of color, and initiated a social change effort in eastern North Carolina called Blacks and Browns United for Change to bring together African Americans and Latinos to empower people of color to become visible and powerful the political, social and economic construct of their lives.
Dothula has expertise in grants writing, conflict resolution, community problem solving, group facilitation; board development; strategic planning; leadership development; and community organizing. She has taught classes and presented workshops on grantswriting, communication, esteem-building, decision-making, life coping, job seeking, team building, conflict resolution, diversity, and financial literacy. She is also a trained mediator/facilitator.
Dothula Baron
Class of 1966
---

The Paisley High School National Alumni Association was formed in 1995 with the focus of putting on the Big Four Reunion program and dance.
The success of the Reunion Led to the much broader focus of community leadership and maintaining the legacy of the African American big four schools in the city of Winston-Salem, N.C.
We the members of the Paisley Alumni Association recognize that we must be beacons in the community in order to gain all of the fruits of labor from the seeds that have been planted in the past.
---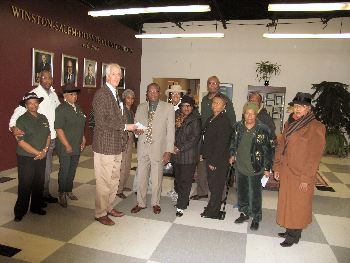 Paisley alumni give donation to school
By Arika Herron
Winston-Salem Journal
Rooted in Paisley IB Magnet School's history is an alumni association with an eye on the school's future.
Through a series of fundraisers — and on the backs on many alumni association members reaching into their own pockets — the group presented at Tuesday night's Board of Education meeting a $1,500 donation to Gary Cone, the school's current principal.
With more than a dozen of his group's members in the audience, alumni association president James Pickens handed Cone the check to "do those things to enhance education at their school."
"We are dedicated to the education of the people of our community," Pickens said, "Not only what they learn in books, but also the whole child."
Cone accepted the donation, thanking the alumni for their support in and out of the school building.
"I've never been part of any school with such an active and supportive alumni association," Cone said.
Today, Paisley is one of Winston-Salem/Forsyth County Schools' popular magnet programs, offering the rigorous International Baccalaureate curriculum for students in seventh through 10th grades.
Once one of Forsyth County's four all-black high schools, Paisley is endowed with a rich history.
With a nod to that past, the association also gave the school a portrait of John W. Paisley, a principal of Winston-Salem schools for more than 25 years. Paisley, who died in 1949, was an educator, church leader, author and graduate of Winston-Salem public schools.
"He had a lot to do with making education what it is today in Winston-Salem," Pickens said.
Pickens, a graduate of Paisley during its high school days, said preserving the history of the Big Four historically black high schools is another important part of the alumni association's mission.
"That's our heritage," he said. "We're trying to keep that going, to maintain that."
The portrait, commissioned by the alumni association, will be displayed prominently in the school.